Poisonous Plants Learning Objectives
After completing this section you should be able to:
Explain the cause of a rash from poison ivy, oak and sumac
Explain how to decrease exposure
Identify the key characteristics of the three plants
Explain how to remove oils
Explain treatment options
Explain the cause of a rash from poison ivy, oak and sumac
If you have ever had an itchy feeling a plant maybe poisonous, you are probably right.  In North America there are 3 primary poisonous plants:  poison ivy, poison oak, and poison sumac.  All three produce an oil known as urushiol, which is highly irritating to the skin.  Reactions vary from mild skin redness and itching to full on nasty blisters and even systemic infections.  The actual reaction may take days to manifest, and once started can last for weeks.  The typical delay in the reaction makes cause and effect learning more difficult.  What you are itching about today was probably caused by what you touched several days ago.   Do you remember?  If you are just figuring it out now, you probably were not aware to remove the oils, and you may have spread the oil on to all kinds of things.  The extent of the allergic reaction can increase with multiple exposures.
Explain how to decrease exposure
Your most effective defense is proper identification and avoidance.  For poison oak and poison ivy, a common expression to help identify the plants is:
Leaves of three, let it be;  Berry white, poison sight.
There are certainly harmless plants with three leaves, but by treating all with as suspect, you will probably avoid both poison oak and ivy.  Sumac, the most poisonous, unfortunately does not play by those rules and has anywhere from 7 to 13 leaves.
Identify the key characteristics of the three plants
Poison Oak
Poison Oak is most commonly found in the western United States.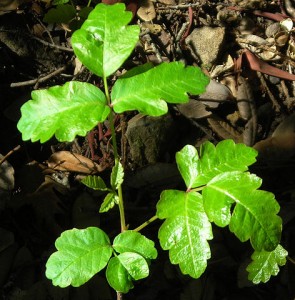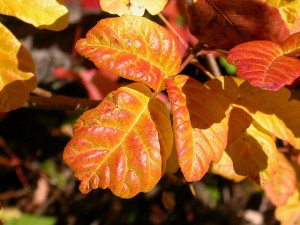 Poison Ivy
Poison Ivy is most commonly found found in the eastern United States.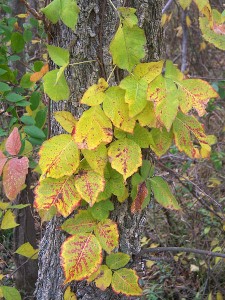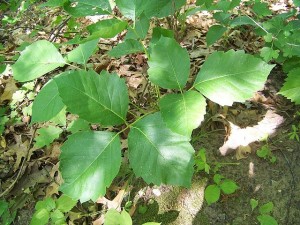 Poison Sumac
Poison Sumac is found in swampy boggy areas of the eastern United States.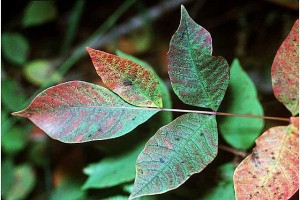 Blockage
Even if you think you can positively identify the plants, you still risk getting urushiol on your skin.  The oil comes from any part of the plant, so even when the leaves have fallen, the vine or shrub can still get you. Wearing long pants and long sleeves may decrease your exposure, but be aware the oil may now just be on your clothes.  Touching exposed clothes or pets can transfer the oil to your skin.
Explain how to remove oils
If you suspect you have been exposed removing the oil quickly is important, before it has had time to "bond" with you.  There are commercial products such as Technu which are designed to break down the oil.  Cold water and soap, used quickly, can also be effective.  Some people carry a piece of Fels Naptha (a laundry soap bar) which is pretty strong, but seems to work and is relatively inexpensive.  When practical, your clothes need to be laundered to prevent future re-exposure.  I have heard stories of people being repeatedly exposed because they did not realize the oil had gotten into their sleeping bag.
Explain treatment options
Not much good news here.  Once you have gotten the oil removed, what's done is done, and over the next couple of weeks you'll know how bad it is.  For some people, cold packs may relieve pain.  Benadryl may provide some relief, but will likely make you drowsy.  If your reaction is sever, you should seek medical attention for possible steroid drugs.
Poisonous Plants Review
You should be able to:
Explain the cause of a rash from poison ivy, oak and sumac
Explain how to decrease exposure
Identify the key characteristics of the three plants
Explain how to remove oils
Explain treatment options