Our Point of View
There is a current explosion of high quality low cost point of view (POV) digital cameras, such as the GoPro HD Hero.  These video cameras tap into that inner child who used to stand on the edge of the community pool diving board screaming "Mommy, mommy… look at me, look at me!"  Today not only can Mommy look at me, but she can also see what I see, and thanks to YouTube, so can everyone else.
Once you become sensitized to these compact little cameras, you start to see them everywhere.  They come with optional mounts for helmets, chest straps, cars, surfboards, wrists, mountain bikes, and about everything else you can think of, including a fin mount for sharks. Yes, there are mounts for shark fins, and no I have no idea how you get it on the shark, of if happen to succeed, how you ever get your camera back!
These HD quality cameras are commonly used by professionals.  You see them on everything from Discovery Channel nature shows, to Myth Buster's blow it up with just a tad more C4 episodes.  Because of their inexpensive price, out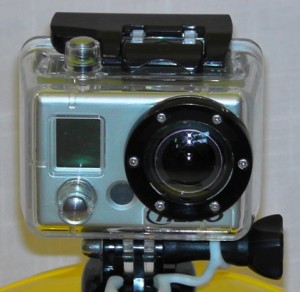 door adventures have latched onto these cameras to document everything they do, from mountain biking, to kayaking, to sky diving.
It is indeed a game changing moment when complete amateurs have in their hands the exact same technology used by the professionals.
The technology barrier to entry has been completely obliterated, and traditional distribution channels have been bypassed by an essentially free internet.  Personal content, rather than capital and distribution, has become the focus.
We too have  completely bought into this craze.  The little cameras are just so dang cute and fun to play with.
I have included a couple of quick little videos we have captured on some of our outings, just to give you a feel.