It seems during the biblical "wilderness of the wandering" six items could be found in the Sinaitic Tabernacle:
an ark – a gold overlaid chest of acacia wood
a table of shewbread – a gold overlaid bread board
a lampstand – a seven branched light stand
an alter of incense – gold overlaid alter / deodorizer
an alter of burnt offering – a bronze alter
a laver – a bronze basin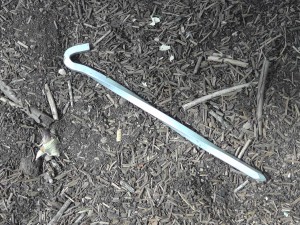 Personally I have done a fair amount of my own "wilderness wandering" and I too have found items.  Such as:
a bag of tent stakes
a mosquito net head gear
a dirty wool sock
a walking stick
a set of earbuds
a change of plans note from Troop 60
Perhaps not quite as impressive, but certainly as mysterious to me.  What meaning can I give to these apparent gifts to the wilderness gods?  Who concludes, 26 miles from the trailhead, they suddenly no longer require the means to secure their tent to the ground? Or that mosquitoes should now have free reign to partake of blood from their neck and face?
On a recent trip my son and I came upon a strange shiny bolt, in very close proximity to a three rock duck.  It is perhaps logical to conclude that the discoverer of the bolt, finding it of no particular personal value, constructed the monumental stone beacon in the hope of attracting the attention of the returning and frantic bolt loser.    I suppose it could also be that the finder discovered three lost rocks, and placed the shiny bolt to call attention to them.
How do we decipher the intentions of what we find and more importantly how do we decide what, if anything, to do with these found items?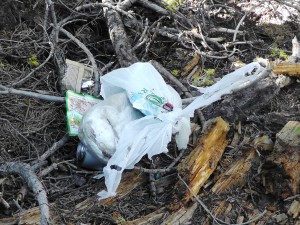 My natural tendency for obvious litter is to "pack it out", in a pay it forward "leave no trace" manner.  This pile of junk was discovered on a Yosemite trip, and packed out by a reasonably good Samaritan.
But hold on little doggie, is litter as easy to identify as we think?
According to the Bureau of Land Management:
Gathering or collecting historical or archaeological artifacts…  on public lands is illegal. Violators may be prosecuted under a variety of federal laws. Vandalizing, defacing or removing scientific, cultural or historical items from sites is also prohibited.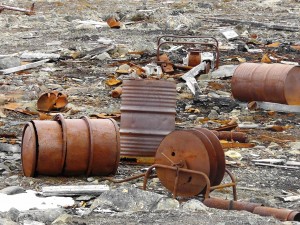 On a Svalbard arctic expedition, we were informed that before us lay an historical whaling site, fully protected from disruption by penalty of law.  Seriously?  This pile of drums and junk?
In Joshua Tree National Park, we came upon a very similar pile of rusting food cans.  Was it historical, or was I merely hysterical?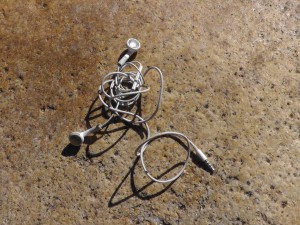 Some items in the wilderness are probably not protected as historical.  For example, I am not sure how old these wilderness found earbuds are, but I seriously doubt they are on a national registry.
So what would Ms Wilderness Manners advise a finder to do?  Leave it, in hopes the owner will return?  Carry it forward, hoping to find the music deprived hiker along the way?  Turn them in to authorities?  Who are the earbud authorities anyway?
According to the National Park Service:
Items left on park property will be considered abandoned property and will not be the responsibility of the National Park Service.
But then whose responsibility is it?  Are found items available for anyone to take?  According to BLM rules:
If you leave personal property unattended for more than 24 hours in a day-use area, or 3 days in other areas, it may be considered abandoned and disposed of by BLM.
Three days seems like a reasonable amount of time, but how does a finder know how long an item has been lost?  Surely I cannot wait 3 days on a trail to be certain.  Is there some trail side carbon dating system?  Single headphone, adventurous, outdoorsy, seeking new owner with deeper pockets and a stronger sense of responsibility.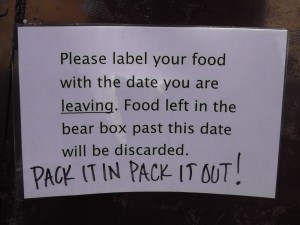 Some items left in the wilderness, such as food caches placed in bear boxes, should and often do display a date.  In most cases food past this advertised date is considered abandoned.   On a Yosemite trip we discovered a bag of resupply 4 days passed its date.  It contained pudding mix, energy bars, and a jumbo sized Snickers.
What to do, what to do?
Technically it was up for grabs.  But what if that poor late backpacker was on his way, delayed by injury.  Perhaps only the thought of the awaiting Snickers was keeping him alive.  We decided to let it go one more day, but after that, it was ours.
Suddenly, a Ranger appeared from nowhere, and began going through and collecting "abandoned" food.  When we inquired what happens to the found lost treasure he smiled and simply replied "we eat it."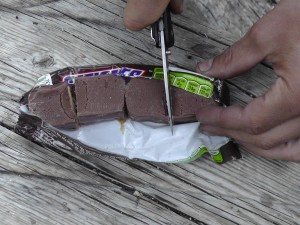 Panic set in as the vision of a Snickers bar dancing in our wee little heads… vaporized.  Mustering the most pathetic and desperate expression he could create, Jesse begged the ranger if we might at least have the Snickers.
I will never know the name of the ranger who saved, if not our lives, at least our souls by handing over that bar.  What could have easily divided us, was quickly divided amongst us.
I may still lack clarity on how exactly to treat wilderness found items, but this found treat found a place near our hearts… though slightly lower, creating a surprisingly satisfying gurgle .