Ambiguity is fun.  Is Logan Bread the answer, or simply part of the question?  Or perhaps, both?  I was at a dinner party recently where a woman, after sampling a brownie-like item declared: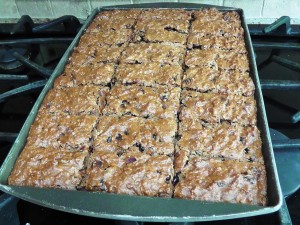 This tastes healthy.
There was immediate recognition, by all within ear shot, exactly what was meant.  Needless to say this pronouncement did not create a mad rush towards the serving tray.  The feeling was one of reverent respect for the apparent wholesomeness, combined with a surprising decline in actual desire.
To sustain life, backpackers eventually require sustenance.  Classic conflicting forces are usually at play: bulk, weight, calories, nutrition, shelf life, and taste.  How do you create a compact, non-perishable, quality source of tasty calories?  Is it even possible?
According to legend, in the 1950's this very challenge faced an expedition team set on summiting Mount Logan.  The resulting recipe, Logan Bread, meeting all desired requirements, is now referred to as the pinnacle of do-it-yourself energy bar-dom.  Given its historical predecessor, known as hardtack or sea biscuits, one could claim the competition was not particularly stiff.  Others counter, however, it was in fact the stiffest thing imaginable – 6 parts flour, 1 part water, and 2 parts broken teeth.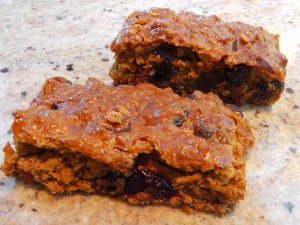 If the Logan Story indeed cracked our long toothed desire for outdoor substance, it must be an amazing tale, climaxing in an amazing recipe – one in which we can confidently entrust our backpacking lives.  Recipes are full of details, and details are important.  It can mean the difference between the rise and fall of our daily bread.  As I delved further into this expeditionary tale, I found nagging conflicting details.  The shear variety of recipes claiming the title Logan Bread, calls somewhat into question their validity.  How can there be so many different recipes claiming this one momentous 1950 event?
Most claim the event was an expedition to the top of 19,550 foot high Mount Logan, Canada, the second highest peak in the Northern Hemisphere .  Impressive.  Others, however, refer to Mount Logan, Alaska.  To many of us uneducated, there is probably not much difference between Canada and Alaska.  There is in fact a Mount Logan Alaska, however, it stands a mere 6,204 feet high, making it the 17,576th highest peak in the US.  This hardly rises to a level worthy of legend.
If details are important, how can we intrust our detailed recipe for life to someone who cannot tell the difference between 6,204 feet and 19,550 feet?  That percentage of error is over 68%.  If we calculate the error based on difference between peak rankings of 2 and 17576, the percentage error approaches 100%!  So exactly how much wheat flour are we really suppose to add?!
To make matters worse, you can find a Mount Logan in Arizona, Colorado, Montana, Ohio, Washington and Wyoming.  Perhaps this explains the plethora of recipes purporting to be Loganesque.
There does appear to be some common ingredients.  Almost all  Logan Bread recipes contain some combination of the following:
As fibrous filler, they recommend a variety additions including:
Dried Fruit
Oats
Nuts
Seeds
To spice it up, many include
One major area of divergence seems to hatch from eggs.  Some included them, many do not.  The argument against eggs seems to be one of shelf life and sickness.  Backpackers appear to have an irrational fear of eggs and salmonella, which if I am not mistaken is caused by salmon eggs, which is why I prefer to use a spinning lure.
More concerning to me is the complete lack of chocolate chips.  Seriously, are we expected to believe life is worth living without chocolate?  For my Logan Bread, I have added a healthy dosage of dark chocolate chips.  Luckily, chocolate contains antioxidants, so a healthy dose can be a lot.  I base this improved recipe on an expedition to my own backyard compost heap, which I coincidentally call Mount Logan.  To me, without the chocolate, standard Logan Bread tastes a tad too much like the smell of my own Mount Logan.
Check out this recipe at:
http://howtowilderness.com/food/logan-bread
Or other recipes at: