As with most griefs, there are five stages of wilderness laundry:
Denial:  I don't smell anything.  Why are you sitting way over there?
Anger: Seriously, it is not that bad!  Besides, you don't exactly smell pine scented!
Bargaining: Listen, I'll take a quick dip in the lake when we get to camp, OK?
Depression: You really do think I smell bad.
Acceptance: Ok, Ok.  So what do you want me to do about it?
Don't sweat it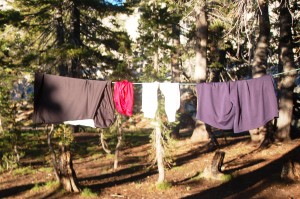 It appears that by itself sweat does not smell, at least not mine.  However, micro organisms which interact with sweat, like an unwanted occupy movement, can create quite a stink. Wilderness cleaning strategies are as varied as the bacteria bathing most backpackers.  To tackle this load I think in terms of three laundry baskets: delicate, permanent press, and regular
Delicate
Delicate is the least interventionist laundry solution.  In fact, you can think of it as mostly prevention and wishful thinking.  The theory is pretty straight forward.  Wilderness smells come from bacteria grown in sweat.  Decrease lingering sweat and you decrease lingering smells. Since sweating is a natural process to regulate temperature, we need to do everything we can to control temperature first.  Proponents wear clothing in layers and quickly remove them as they heat up.  Better to be too cool than to accidentally sweat.  Antiperspirants can be deployed in all the normal places, and some of the abnormal ones as well.  Wicking clothes can accelerate the evaporation of sweat.  Removing boots and letting socks dry out during hiking breaks may also help.
Most multiday backpackers who use this delicate laundry approach, are referred to as "stinky".  To mask reality you may be tempted to apply deodorant.  Frankly, covering your body with a bouquet of sweet scents may not be the best approach when traveling in bear country, unless you desire a hug.  In that case, I recommend honey scented or perhaps maple sausage.
Permanent Press
Permanent press is the next level of intervention.  It involves an acknowledgement that sweat prevention probably did not work, and we need a way to press this bacteria causing solution out of our clothes on a continuous, one could say permanent, basis.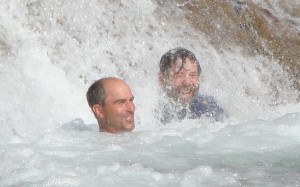 Due to environmental concerns, proponents of this free press are agitated by the thought of soap, even biodegradable.  They prefer a proactive yet minimalist approach.  The most common solution to remove bacteria is to thin it in water and then squeeze it out.  This could be accomplished by removing clothes and rinsing in the river, beating clothes against a rock, or simply jumping in with clothes on in an organic strategy known as "wash and wear".
Regular
For the regular folks, who believe soap can be used responsibly in the wilderness, a more aggressive approach is taken. The challenge is that normal amenities like a laundry sink or tub are noticeably lacking, and using soap in a river or lake is completely out of the question.  Creative approaches are therefore required.  I have seen or heard tell of various containers in which to soak soapy clothes:
Plastic ziplock bag
Emptied bear canister
Cooking pot
Wide mouth Nalgene bottle
To achieve warm water for cleaning some carry black plastic jugs or containers which convert the suns ray to heat.  In any case, the rinsing of soapy water should be thorough and at least 200 feet from the water source.  Needles to say extra precaution should be taken to clean any improvised laundry containers you plan to eat or drink out of later.
Solar Sterilization
Regardless of the cleaning approach, a simple clothes line and the sun are typically used for drying.  If you do not dry your clothes quickly and thoroughly, you risk growing mold which frankly pretty much defeats the purpose of washing to begin with.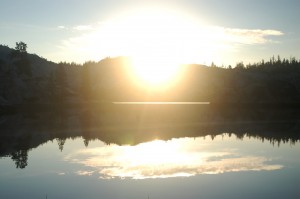 There is a growing scientific debate, however, regarding the effectiveness of using the sun not only to dry clothes, but to actually clean and sterilize them.  It starts with anecdotal memories of Grandma's lovely laundry, where stained diapers hung on the line were magically sun bleached.  Not only were smells removed, but the actual stains vanish!  Backpackers have ample access to the sun, and the thought of removing smells and stains by simply offering them up to the sun god is, well frankly, too good to be true.
The scientific debate usually goes something like this:
Sun light contains UV light, which is really powerful stuff causing sun burns and in extreme cases, skin cancer.
UV light has been used for years in water and sewage treatment.  Surely my backpacking laundry is no worse than urban sewage!
UV light is proven to disrupt DNA.  Organisms with single celled membranes such as bacteria and fungi found in clothes are particularly vulnerable to UV disruption, rendering them unable to reproduce or sustain life.  Stinks for them.
Grandma's laundry line is actually a slow cooking UV sterilizer.
Problem solved!
Soiling the party, however, are observations such as:
If the sun can really sterilize my backpacking clothes, then why are my sun baked shirts stinking to begin with?
UV works best with direct hits.  Even small particles in liquid can shadow pathogens, allowing them to survive.  One can only image what shadowy things lurk in a backpackers pants.
The UV spectrum used in water treatment plants operates at 2537 angstroms, or 254 nanometers.  This spectrum, though present in sunlight, is usually absorbed by our atmosphere. It's presence on earth therefore is extremely rare.  For practical sterilization purposes, it has to be artificially created with UV lamps.
Damn you science!  Stop teasing me!
But don't give up quite yet.  The promise of simple sunlight cleaning and sterilization is just too good to give up on.  I came across an ACS Publication of Applied Materials and Interfaces article titled: 
Realizing Visible-Light-Induced Self-Cleaning Property of Cotton through Coating N-TiO2 Film and Loading AgI Particles.
It seems two Chinese scholars, Deyong Wu and Mingce Long, are plotting to turn the entire Chinese laundry business on its head.  Others, including researches in Australia and US are also exploring coatings of Titanium Dioxide Nanoparticles for self-cleaning anti-bacterial clothing.  If successful, the five stages of laundry could be condensed in to one solar blast.
Oh sure, there still needs to be research.  I am personally skeptical we will be able to harness the moon any time soon for required ironing and folding.  Perhaps we should also be a smudge nervous that manufactures are adding chemicals to our pants that enable basic sunlight to vaporize dirt.
After all, applied to a hat, who knows what would become of my dirty mind.