Those of us of a certain age remember Euell Gibbons, a man of seemingly normal human intelligence, declaring on network television:
"Ever eat a pine tree?  Many parts are edible."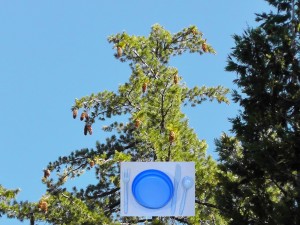 What an idiot!  Not Euell, me.  Years I wandered through thick pine forest, lugging my rolled oats and dirt flavored granola bars, never once realizing I could simply eat the trees.  This fruit of knowledge, however, raised new concerns for me, such as:
Which goes better with fresh trout, red fir or white fir?
Still something in the back of my mind was just not right.  The same could also be said for most of the front.  If our forests are enormous arbor buffets, minus the sequoia sized sneeze guards, surely they would be filled with herds of grazing obese Americans.  In my wilderness wandering, most white trash trail-ers I encountered were small, scrawny, and seemingly starving.
If I remember correctly my Latin roots, forage comes from the words fore, meaning in front of you, and age meaning unavoidable death.  For the Greeks, forage derives from the word forge, meaning to make false.  Forage therefore loosely translates to:
"before you lies certain death because this is all totally false."  Loosely.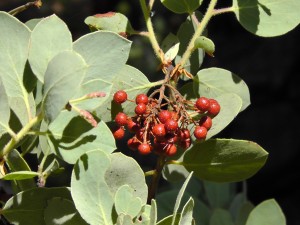 There are two reasons to forage in the forest, neither of which is particularly appealing:  revival or survival.  Revival is an increased spiritual interest in something.  It is true we have become disconnected from our natural food chain by, well, our grocery food chains.  Food magically appears hermetically sealed in plastic, completely removed from its source, usually by underpaid migrant workers.  Reconnecting to our wild food roots, regardless of how bitter they taste, is the dream of the forage revivalist.  For the survivalist, well I guess we just got ourselves into such deep doo-doo that we need to eat a few logs to get out.
There must be food in the wilderness.  After all, birds and squirrels are eating something.  Some of it sounds surprisingly similar to their plastic wrapped relatives:  wild strawberries, blackberries, asparagus, onions, and miner's lettuce.  Some things seem totally lacking. I have never found miner's croutons or miner's lettuce dressing.  Also, some of it seems down right weedy: dandelions, cattails, and oh come on, seriously, nettles!?
The forest foraging marketing department could use some serious revamping.  I have reviewed a wide variety of foraging books, guides, and websites, and offer up some of these apparent pearls of wisdom:
Braken fern tips, when tightly curled are delicious.  As they begin to uncurl they become bitter and poisonous.  Recent studies have also linked consumption to esophageal cancer.
Wild asparagus is delicious steamed or boiled, unless leaves have formed, in which case it become toxic.  Eaten raw, it causes nausea and diarrhea.
Nettles should be cooked to remove the stinging hairs.  If undercooked, even slightly, they can cause miserable tissues swelling in your mouth and throat.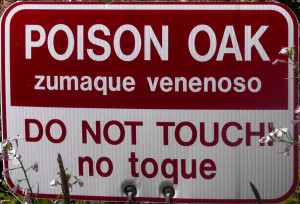 Frankly, it is difficult to image that Mother Nature has not been sued, let alone the authors of these foraging guides and books.  One author strongly recommended that new foragers maintain a yearly journal.  Based on the labyrinth of risks to life and limb, I declare optimism has never been so bold.
One piece of supposedly helpful advice:
Eat only what the bears will eat. 
First, why are we close enough to their dinner table to see what they are eating? Second, if they really want it, I am pretty sure they are going to get it.
Perhaps this advice simply means we should behave like a bear, focusing on things easily recognizable and digestible such as berries and fish.  I have to point out that bears also eat grubs, and frankly if your hiking partner Steve get's between bear and cub, he is pretty much in play as well.  I suppose we can indeed take lessons from the bear.  Given a strong enough driving hunger and the element of surprise, we might be able to take out Steve ourselves.
Foraging appears to be growing in popularity, though I am not sure how successful these scroungers actually are.  A suspiciously significant amount of coverage is given to creating brews and teas from pine needles and manzanita berries.  I am not sure too many people are actually starving in the wilderness from a lack of boiled twigs.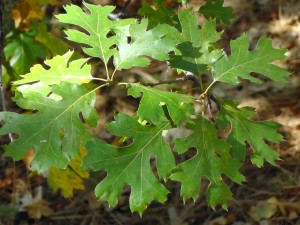 Plants with seeming potential, such as oaks which sustained centuries of Indian tribes, begin to generate reservations when you realize their acorns have to be harvested, sorted, dried, stored, mashed, leached, boiled, shaped into a patty, and only then cooked on a rock.  My instant oatmeal pack is looking pretty good about now.
Maybe the skills required are so refined, that commercial providers are better suited for foraging.  There is a restaurant in California called Forage in the Forest that serves, get this, hamburgers. Call me cynical, but it seems this hunger game has crossed over from gathering to hunting.  If hungry enough, I suppose poached food will have to do.
We now return to Euell Gibbon's pine nuts.  I have to confess that by now I am no longer sure if this refers to edible seeds, or simply the people like him who think pine trees are edible.
I am slightly embarrassed to say I experienced perverse pleasure when I first heard Euell Gibbons died of malnutrition.  I am not completely convinced this is true, so I personally refuse to Google it for fear of spoiling the immense irony.  I suppose it is possible old Euell simply passed away in his sleep, bludgeoned to death by troop of starving backpackers.