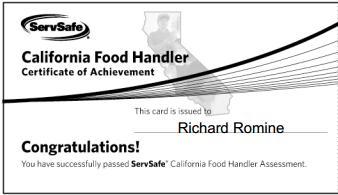 In most of our United States anyone serving food to the public, including a wilderness guide preparing meals in the backcountry, should be Food Handler Certified.  The goal is preventing food borne illnesses.  The industry certification covers standard topics such as causes of food borne illness, factors that contribute to food related diseases, and basic food safety measures to decrease risk.  Like water born bacteria in the wilderness, food bacteria cannot be seen, smelled or tasted.  The appropriate approach is better safe than sorry.
The Partnership for Food Safety Education refers to their food safety strategy as the FightBAC!™ Guidelines.  Get it?  Fight back and fight "bac" – as in bacteria.  The four principles are:
Clean
Separate
Cook
Chill
Adventurers who have spent any time in the wilderness will immediately recognize the challenges to these four food safety tenets.
Clean –Wash Hands and Surfaces Often
Wildernesses contain a far greater abundance of dirt than of clean.  In fact, I am pretty sure my fingernails have never been packed with clean.  For environmental reasons, soap is discouraged in the wilderness.  Even so called bio-degradable camp soaps can have a negative impact.  It is possible to create a sanitizing solution with 1 teaspoon of bleach to 1 gallon of water, but wilderness disposal may be an issue.  So what's an ethical packer to do?  Two effective sanitation techniques are ethyl alcohol (such as Purrell®) for hands, and boiling water for food surfaces (including pots, pans, and cutting utensils).  It may be possible to clean hands with boiling water, but it probably involves the extra resources of a first aid kit.  One thing you may have to get used to is the idea that clean and sterile are not the same thing.  It is possible to sterilize some pretty dirty surfaces, including you hands.
Separate – Don't Cross-Contaminate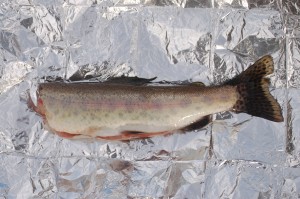 The push for separate but equal food is designed to prevent raw meat contaminates from migrating to other foods and surfaces. Cross contaminated foods such as produce, which are not cook, will significantly increase food illness risk.  Fortunately most backpackers do not bring raw meat on outings, and dehydrated foods are far less likely to cross-contaminate. Even so, you should clean surfaces and utensils when switching between the types of food being prepared.  If you catch fresh fish, it should be treated careful, and cooked and consumed quickly before bacteria can develop.
Cook – To Proper Safe Temperatures
When it comes to food bacteria, the smart approach is retardation.  In other words, we want to keep food in a state that retards bacterial growth.  Oxygen, temperature and moisture are key factors.  Dehydrating food retards growth, and allows us much more flexibility in wilderness storage temperature.  Once food is re-hydrated, however, we need other means to increase safety.  Two ways to keep food out of the danger zone are cooking and chilling.
Most meats are safe if cooked to an internal temperature of 145 F. degrees.  Ground meats and poultry should be cooked to 160-165 F. degrees.  For some backpacking food, the pre-trip cooking, dehydrating and storage are probably bigger risk factors than the wilderness "re-heat" temperatures.   However, better safe than sorry, so reheat foods to the appropriate and safe temperature.
Chill – Refrigerate Promptly
Unless you are snow camping, refrigeration is probably not an option.  This means foods which normally require refrigeration may not be appropriate for backpacking.  Some items, like air sealed hard cheeses for example, are probably safe for a few days.  Dehydrated foods are safer (and lighter to carry) than foods with moisture.
Leftovers, although useable at home, can be dangerous in the wilderness.  Once re-hydrated, many foods become unwanted growth opportunities.  Fortunately, most backpackers are hungry enough to consume the food they have carried.  This is especially true when reminded that if they do not finish it, depending on local regulations, they may have to bury it or carry it – neither of which is particularly fun.
Conclusion
Being in the wilderness makes sanitation challenging.  Being far from the civilized comforts or your own personal bathroom makes the consequence of poor sanitation even more challenging.  Do yourself and everyone else on the trip a favor – remember to clean, separate, cook and chill.  In fact, chilling in the wilderness is the primary reason I backpack.
For more information on food safety, check out: