When You Gotta Go, You Gotta Go
This is without doubt the number one or number two challenge in the wilderness.  Many of us wish we could avoid the subject, but in the end, it's not our call; it's nature's call.  Try as we might, there is simply no avoiding voiding.
Does a Catholic bear poop in the woods? And what about the Pope?  What does he do? This picture ought to remove all doubt.  Or at least some of it.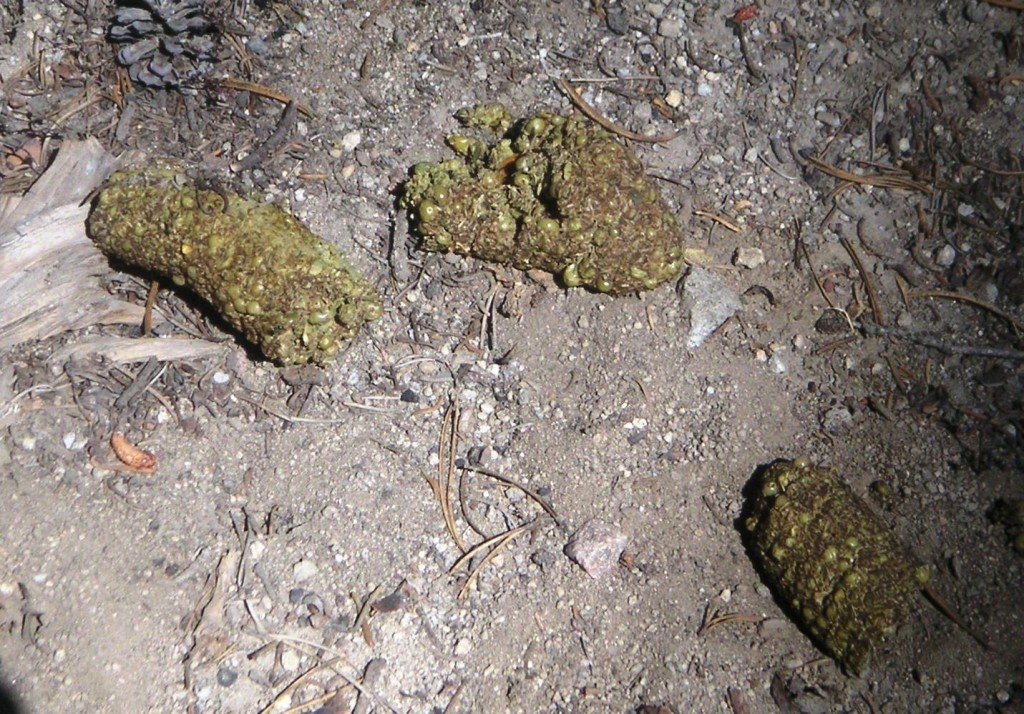 If it is not of bear, it certainly bears something ickumenical.
Hygiene
There are standard hygiene practices which should be followed in the wilderness.  Although urine is relatively sterile, most of us do not want it in or near our water.  After all, this is the same water we use for our hot chocolate, coffee, and pea soup.
Feces carry pathogens which can make their way into our body via various routes including hand-to-mouth-contact or soiled-water.   After doing your business, it is highly advised that you wash your hands far from any water source.  To decrease the odds of contamination, the US Forest Service recommends disposing of human waste:
far from lakes, streams, and campsites–at least 100 feet (200 feet recommended).

Options
Knowing that our call of the wild may be just around the corner, what are our options?
Avoidance Option
The avoidance option is simple: don't go.  And by don't go I mean don't go in the wilderness.  For health reasons, it is better not to go in the wilderness, than to go in the wilderness and not go.
Number 1 Option
It seems nature was kinder to men than women, at least regarding equipment to support  option number 1.  You might say that women got hosed, but it turns out it was actually the men.   Marketeers have funneled in to provide women aiming options mother nature simply missed.  These funnel products and their names are real.  You can not make this stuff up.
GoGirl (www.go-girl.com)
SheWee (www.shewee.com)
Magic Cone (www.magic-cone.co/)
Urinelle (www2.urinelle.eu)
WhizFreedom (www.whizfreedomusa.com)
You realize of course what this means.  When you see Jerry or Terry or Sam written in the snow, you'll be left wondering if it was a he-weer or a she-weer.
Note:  You can find YouTube demo videos for these products, and no I am not providing those links.  Even I have to draw a line in the snow.
Number 2 Option
Cat Holes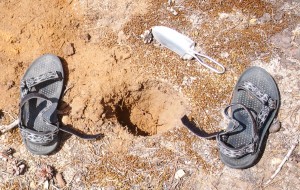 For most wilderness settings, cat holes are the preferred method of human waste disposal.  A cat hole is a 6 to 8 inch hole dug in the ground with a small travel trowel.  In this wilderness version of putt-putt, your goal is to make a hole-in-one.  Efforts requiring several strokes with a stick are rightly shrouded in shame.
The theory of a cat hole is that it should be dug in bacteria rich soil which will help breakdown the waste.  Burying waste in a cat hole also spares the rest of us the sights and smells of your latest production.  In some areas, toilet paper can be buried along with your waste.  In other areas, it may need to be burned or packed out.
In the Trenches
Rather than individual cat holes, some backpackers prefer a group latrine.  This does not mean the backpackers go together at the same time, but it does mean they share a common location.  This typically involves digging one long trench.  Each person who uses the latrine makes a deposit at the end of the trench and buries it, leaving the remainder of the trench for future customers.  The downside to this approach is that rather than scattering the impact over a broad area (as with individual cat holes) it concentrates the human waste.   On the plus side, however, it may be easier for some children or inexperienced packers.  They do not need to figure out where or how to dig, and if they do not cover their load properly others are likely to discover and correct.
DogPiles
Believe it or not, there are some people who rationalize a dogpile technique.  Rather than digging a hole they simply make a surface deposit.  The theory is that exposure to direct UV light will accelerate the decomposition of the human waste.  In fact, some go so far as to recommend increasing the UV surface area by use of a smear campaign.   Suffice it to say I do not think you will see official literature recommending this approach.  I have a feeling most people that use this technique are also known as "solo hikers."
Doggie Bags
In some environmentally sensitive and high traffic wilderness areas personal deposits are no longer legally accepted.  In other words, after you are done holding it, you will still need to be holding it, only now in your own personal carry on bag.  By the way, contrary to perhaps other times in your life, if someone offers you paper or plastic, choose plastic.  Pack It In and Pack It Out has just taken on a whole new meaning.
Technique
As an experienced cat-holer I offer the following advice:
Dress Appropriately.  What you are about to do will probably involve taking off some clothes and perhaps your shoes.  Shorts and sandals are easier to deal with than long pants and high laced boots.

Toilet Trowel and Paper

Take The Necessary Equipment.  You will want a small trowel, toilet paper, and hand sanitizer.  If you are near mosquitoes you may want to apply insect spray to certain areas before you get out there.

Seek Higher Ground.  You should plan to be at least 200 feet from camp, trail, or water.  Given a choice go uphill.  It is better to find a place where you can look down on others, rather than the other way around.  Besides, windier high points have fewer insects.
Find an Appropriate Dig Site.  You want soft bacteria rich soils.  Do your best to avoid roots and rocks, which make digging difficult.  Watch for ant hills.  The soil may be easy digging, but the resulting frenzy may be more than you bargained for.
Dig a 6-8 inch deep hole.  The depth of the hole is to ensure you get down to the proper soil and have room to bury your offering.  The width of the hole will depend on the size of your burden, but 6 inches is usually enough.
Clear the Runway.   Take time to remove tall grasses, sticks, twigs, or other things that may rub you the wrong way when you squat.  Do it before you remove your clothing.
Toilet Paper within Reach.  Keep toilet paper within reach and in its plastic bag until you are ready.  After you have started is not a good time to realize you left the paper way over there.
Remove your clothing.  Do not simply drop your pants to your ankles and expect a successful outing.  Get your pants and underwear completely off and out of the way.  The last thing you want is a constant reminder all over your clothes.
Balance and Aim.  Straddle the hole and squat.  You may want to put a hand down on the ground for balance.
Be Patient.  Do not expect results right away.  Stage fright takes on a whole new meaning in this position.  Also, many people have delayed this moment so long that it may take a while to get it going.  Look around.  Enjoy the view.  The wilderness is spectacular.
Adjust Your Aim.  If you do miss, shift your position.  This is a skill you will acquire over time.

Cat Hole with Paper

Use Toilet Paper Sparingly.  Be mindful of the days left and the number of people sharing the paper.  Leaves and soft pine cones can be used, but they are not my first choice.  If appropriate for your location, deposit toilet paper into the hole.  You can also use it to guide any off target items into the hole.

Get Dressed.  Most people feel uncomfortable naked in the wilderness, so will want to put clothes back on quickly.  Others may relish the cool breeze.  The sense of urgency is up to you.

Cat Hole Covered

Bury your Evidence.  Fill the hole with the dirt you removed creating the hole.  Many people like to place a large rock on the spot to discourage animals from digging it up.  Just remember, the rock you just pick up may be the marker from the previous persons efforts.

Wash Your Hands.  Use hand sanitizer.
Declare Victory.  Congratulations.  Now go back and join the group.  They are all probably waiting to hear how it went.