There are times when carrying fresh food and vegetables is worth the extra weight.   Sushi Rolls is one of those times.
Serves 4-6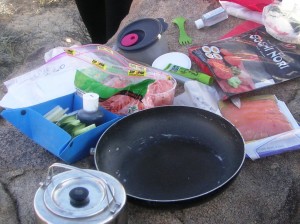 Ingredients:
12 sheets of Sushi Nori seaweed wraps
3 bags instant boil in the bag rice
8 oz smoked salmon
1 cucumber, chopped
1 package (10 oz) shredded carrots
1 tube (1.5 oz) wasabi paste
1 package (5 oz) pickled ginger  slices
1 small plastic container of soy sauce
Pre-Trip Preparation:
Unpack and repackage items into desired quantity.
Cooking Instructions:
Prepare instant rice according to instructions.
Dice fresh cucumber.
On a flat clean surface, lay out a single sheet of sea weed wrap.
Spread about 1/2 cup of cooked rice on the wrap.
Lay generous strips of smoked salmon on the rice.
Cover with shredded carrots and diced cucumber.
Layer strips of pickled ginger.
Squeeze soy sauce over the mix.
Add wasabi paste to taste.  For some, a little goes a long way.
Carefully roll and eat.  (Do not bother to cut).
Notes:
Increase or decrease ingredients based on preference.  Just make sure there is enough smoked salmon for everyone!
Special thanks to Steve of FitPacking for serving us this treat.