The taste of a pizza, in the form of a quesadilla. This simple to make meal is the favorite of any child or child at heart. Use the standard pepperoni and cheese toppings, or get crazy with your own.
Serves 4-6.
Ingredients:
1 dozen 8 inch flour tortillas (size will fit in bottom of bear canister)
1 jar spaghetti/pasta sauce dehydrated
1 package pepperoni slices
12 single serve sticks of string cheese
1 small container of oil
Pre-Trip Preparation:
Dehydrate 1 jar of spaghetti/pasta sauce and place in zip lock freezer bag.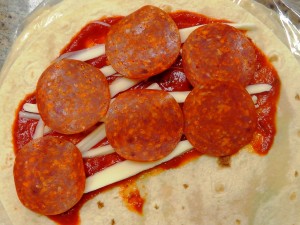 Cooking Instructions:
Rehydrate spaghetti sauce in freezer bag.
Spread 2-3 Tbls of spaghetti sauce on 1/2 of a tortilla.
Shred 1 package of string cheese into strips and place onto sauce.
Cover with 5-6 slices of pepperoni.
Heat oil in skillet to medium temperature.
Fold tortilla and place in fry pan.
Cook on each side for 3-4 minutes, or until nicely browned and cheese is melted.
Slice and serve.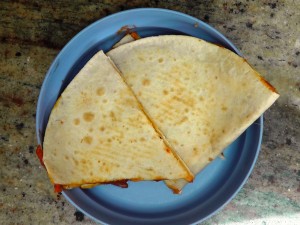 Notes:
Consider dehydrating and re-hydrating other traditional pizza toppings, including onions, mushrooms, and peppers.