Getting pudding to set in the wilderness without refrigeration can be a challenge. This basic recipe has been modified to use less liquid. It will end up slightly sweeter, but less soupy in texture.
4 Servings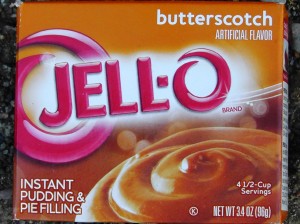 Ingredients:
1 package Jello instant pudding mix
6 T Full Fat Powdered Milk (Nido)
1 ½ cups water (yes, this is less than package recommends)
Pre-Trip Preparation:
Repackage pudding mix and powdered milk in double zip lock bags.
Cooking Instructions:
In a bowl, very gradually add water to the dry mixture, whisking constantly.  If you add liquid too quickly, if will be very difficult to eliminate lumps.
Allow mixture to set as much as practical before serving.
Notes:
To decrease cleanup, mix the pudding in a large zip lock bag, rather than whisking in a bowl.  Eliminating lumps with this technique can be a challenge. Be careful not to burst the bag making an even worse mess.
Consider spicing it up with additional toppings, such as dried fruit or dark chocolate chips.