Originally created for a 1950 summit of Mount Logan, this recipe has been modified to include dark chocolate chips, which frankly make anything better!
Ingredients: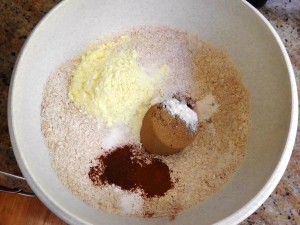 Dry Ingredients:
2 C Wheat Flour
2 C White Flour
2 C Quick Oats
3/4 C Brown Sugar
1/2 C Powdered Milk
2 teaspoons Baking Powder
1 teaspoon Salt
1 teaspoon Nutmeg
1 teaspoon Cinnamon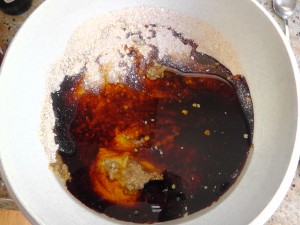 Wet Ingredients:
1 1/2 C Water
3/4 C Honey
1/2 C Molasses
3/4 C Oil
Goodies:
1 1/2 C Almond Pieces
1 1/2 C Dried Cranberries
1-2 C Dark Chocolate Chips
Pre-Trip Preparation:
Cook, cool, and wrap prior to the trip.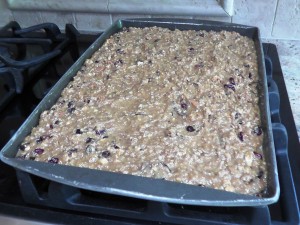 Cooking Instructions:
Heat Oven to 300F.
In a large mixing bowl, combine all dry ingredients.
Add Liquid Ingredients and stir thoroughly.
Add Goodies.  Feel free to improvise your own.
Pour into a greased 9 x 13 inch pan.
Cook at 300 for one hour.
Remove from oven, and cut into desired pieces (2 x 3 inches).
Return to oven at lowest setting possible, with door slightly open.
Cook for another hour or so to further dry.
Remove, cool, then wrap cut squares in plastic.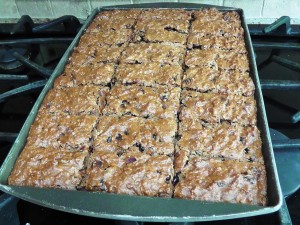 Notes:
This recipe, more than many, can be modified significantly.  Some include eggs, applesauce, wheat germ, sunflower seeds, or whatever strikes your fancy.  Make sure the dough is moist enough to spread evenly in the pan.
Store in freezer until ready for your trip.