Crisp potato hash and the smell of hot bacon will roust most sleepy backpackers out of their tent. Great for a morning when you are not in a rush.
Serves 4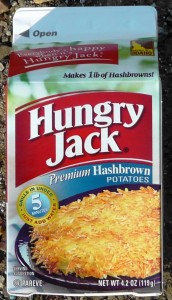 Ingredients:
4.2 ounces of dehydrated hashbrowns (1 Hungry Jack carton).
1 package pre-cooked bacon (Oscar Meyer – 15 slices)
1-2 cups water for rehydration
1 small plastic container of cooking oil
Pre-Trip Preparation:
If you cannot find dried hashbrowns, you can easily dehydrate a package of frozen hashbrowns and package them in freezer zip lock bags.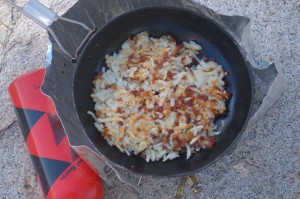 Cooking Instructions:
Heat water in pan for rehydration.
Fill Hungry Jack carton with hot water, or cover dehydrated hashbrowns with water in a small pan.
Wait 10 minutes for hashbrowns to absorb water.
Pour off excess water before cooking.
Tear up 3 pieces of pre-cooked bacon, and heat in well oiled pan.
Add an even layer of hashbrowns to pan and fry for 3-4 minutes.  DO NOT stir so hashbrowns will brown and crisp.
Turn and fry on the other side.
Serve and eat.
Repeat for additional servings.
Notes:
Season with salt and pepper to taste.
Salami or other meats can substitute for bacon.
Add tabasco sauce or salsa to give the hash a spicy kick.