Simply your favorite hot chili poured over a bed of warm pasta. This hearty favorite never fails to please your hungry backpackers.
Serves 4
Ingredients:
2 cans of your favorite chili, dehydrated
12-16 ounces of dry pasta noodles
Pre-Trip Preparation:
Dehydrate your favorite homemade or canned chili in trays.
Package and label dehydrated chili in freezer zip lock bags.
Cooking Instructions:
Rehydrate chili in zip lock bags by covering with warm water.  Only add as much water as will be absorbed by the chili for a nice thick texture.  It is easier to add more water over time, then to try to remove it once soupy.
Boil water in large sauce pan, and cook noodles per package instructions.
Heat rehydrated chili in medium sauce pan.
Serve hot chili poured over cooked noodles, in desired proportions.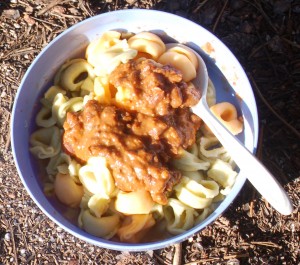 Notes:
To accelerate chili rehydration, you can hand massage the chili and water in the zip lock bag.
For a one pot meal, cook and drain noodles first, then stir in rehydrated chili with noodles and reheat.
Vegetarian chili can also be substituted.
Mix it up with a variety of noodle types, such as Trader Joes cheese filled tortellini.