The great thing about breakfast burrito wraps is that you can pretty much include anything you want. The basic ingredients usually involve a flour tortilla filled with scrambled eggs, cheese, potatoes, spices and meat.
Serves 6
Ingredients:
1 package of 10 inch flour tortillas
1 – 24 ounce package of frozen country potatoes, dehydrated
2-3 cups water for potato rehydration
1 – 7.5 ounce package backpackers pantry instant eggs (equivalent to 12 eggs)
1 1/4 cups water for egg mix
6 single packets string cheese
1 package precooked bacon (15 slices)
Pre-Trip Preparation:
Dehydrate 1 -24 ounce package of country potatoes.
Package in freezer zip lock bags.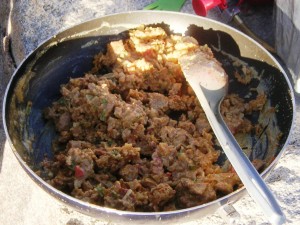 Cooking Instructions:
Rehydrate country potatoes by covering in water.
Oil a large skillet, and stir fry the rehydrated potatoes.
Tear up pieces of pre-cooked bacon and add to potatoes.
In a large mixing bowl, combine entire package of egg mixture and 1 1/4 cups water (or 3T egg mix to 4T of water for each egg).
Pour egg mixture into the hot potato and bacon filled skillet.
Stir until eggs are fully cooked.
During final stage of egg cooking, shred string cheese packets and stir into egg mix.
Place a large scoop breakfast mixture on a flour tortilla and roll up.
Serve warm.
Notes:
You can substitute tofu for any meat product.
Add a squirt of Tabasco or salsa to spice it up.