Sure they take time and fuel to prepare. And if you want them cooked all the way through, it really helps to have a backpacking stove with a simmer control.   But for layover days, or late start days, there is just nothing like fresh off the grill blueberry pancakes.
Makes 8 pancakes
Ingredients:
1 package Betty Crocker Just Add Water Blueberry Muffin Mix (6.5 ounces)
2/3 cup water (or mixed powdered milk to add calories)
1 small plastic container of maple syrup
1 small plastic container of cooking oil
Pre-Trip Preparation:
Cooking Instructions:
In a small bowl, combine muffin mix with water. Stir until there are no lumps.
Oil a small fry pan and bring to medium heat (a drop of water should sizzle and dance in the pan).
Spoon in batter, covering with a lid or foil to accelerate cooking.
Flip pancake when bubbles form and edges dry.  They should be golden brown.
Cook a few minutes more on other side, then serve hot smothered with maple syrup.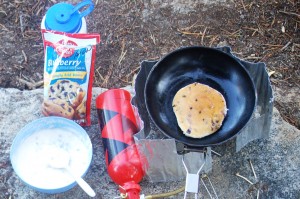 Notes:
If available, pick and cover with fresh huckleberries or blue berries.
For variety add dried fruit or dark chocolate chips to the mix.
Consider topping with fruit jam instead of syrup.