A perfect hearty breakfast for a late start or layover day. While the biscuits are more like pancakes, the taste is pure traditional biscuits and country gravy.
Serves 3-4
Ingredients:
1 package Just Add Water Biscuit or Pancake Mix
1 package Instant Country Gravy
2 & 2/3 cups of water.
1 small plastic container of cooking oil
1 bag bacon bits topping (optional)
Pre-Trip Preparation:
If using bulk biscuit mix, pre-measure into plastic zip lock bag and label.
Cooking Instructions:
Pour country gravy mix into a small sauce pan.
Very gradually whisk 2 cups cold water into the gravy mix.
While stirring, bring gravy mix to a boil, then reduce to simmer for 1 minute.
In a small bowl, combine biscuit mix with 2/3 cup water. Stir until there are no lumps.
Oil a small fry pan and bring to medium heat (a drop of water should sizzle and dance in the pan).
Spoon in batter, covering with a lid or foil to accelerate cooking.
Flip pancake when bubbles form and edges dry.  They should be golden brown.
Cook a few minutes more on other side, then serve hot smothered with warm country gravy.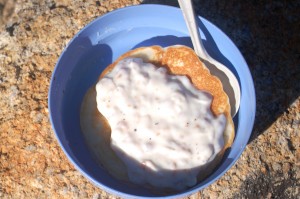 Notes:
Serve with pre-cooked bacon, or sprinkle top with bacon bits.
For creamer gravy, add 4 T full fat powdered milk mix.